EZOCM JSC may become the permanent platform for discussing innovative developments in the regional industry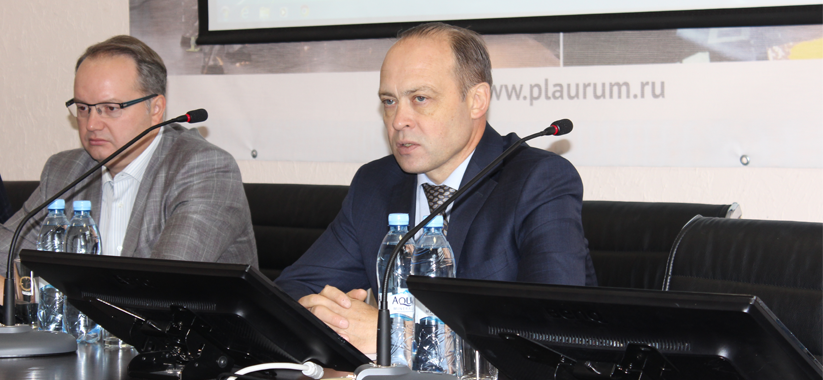 This proposal was announced by Sergey Perestoronin, acting Head of the Regional Ministry of Industry and Science, during a meeting with representatives of large-scale industry of Sverdlovskaya oblast, which was held on September 29 at EZOCM JSC's premises.
The key matter discussed at the meeting was an extension of the production and technological potential of the regional industrial complex in terms of import substitution. This matter was discussed by representatives of regional authorities and large-scale enterprises of Sverdlovskaya oblast, such as were EZOCM JSC and its affiliated company EZOCM Engineering Ltd, "NPO Automatics" JSC, "Electrokhimpribor" Combine FGUP, "Uralkhimmash" JSC (GK "OMZ"), OP "Kaliningradsky Amber Combine" JSC ("Rostekh" State Corporation) and others. The participants of the meeting heard the EZOCM JSC administration report about the scientific-technic and industrial potential of the enterprise and the new Engineering Center operating at its premises, discussed matters connected to the arrangement of joint projects on innovations development at their enterprises, product lines diversification, and development of import substituting equipment and technologies.
Sergey Perestoronin noted that the region's enterprises, often by virtue of their closed nature, are poorly informed on technological capacity, processes and pilot projects of other enterprises within the region. Meanwhile, their more active cooperation could promote the region's industry development, reducing costs for these processes via import-substituting processes. The most striking example of such import-substituting processes was discussed at the meeting. In this way, EZOCM JSC can now use innovative technologies to extract precious metals from different types of mineral and industrial waste. Correspondingly, other enterprises could use the developed technology to liquidate thousands of tons of accumulated waste, while precious metals produced "on-site" could be used for the development of regional plants operating in chemicals, space, air, defense and other branches of industry.
Besides, Sergey Perestoronin supported an offer developed by meeting participants to create training seminars and hold regular meetings for manufacturers, and added that EZOCM JSC could provide the permanent platform for such arrangements (at the close of the meeting, the plant's administration was invited to consider the possibility of holding roundtable discussions for technical experts from enterprises involved with defense, mining and metallurgy and machine-building complexes within Sverdlovskaya oblast with a view to develop cooperation).
Denis Borovkov, the plant's Director General, confirmed his approval for such arrangements, as well as encouraging regional partners to increase the production efficiency. Other enterprises participating in the meeting also confirmed their support for closer cooperation.
"EZOCM JSC has plenty of experience in implementing projects relevant to the development of other industrial enterprises. For instance, in 2012 – 2013 EZOCM JSC extensively promoted launching into operation the first refinery in Kazakhstan, sharing its experience and process solutions with colleagues. While developing our own production processes, we have always relied on our own ideas and developments, along with foreign-made equipment. However, as noted at the meeting, partnership with enterprises located nearby within Sverdlovskaya oblast may be very promising. This is true not only in terms of processing their waste containing precious metals, but for technical cooperation as well. It is potentially possible to use the unique technologies developed by "Electrokhimpribor" Combine FGUP for further development of "poor" mineral and industrial waste processing, as well as joint projects with OP "Kaliningradsky Amber Combine" JSC aiming to increase the volume of rare-earth metals extraction, refining of radioactive materials,"- said Denis Borovkov.
It is worth mentioning that EZOCM JSC, in cooperation with "FBM Technologies" Ltd, is already implementing scientific and technical cooperation in the field of processing waste containing precious metals. Summarizing the results of the meeting, Sergey Perestoronin recommended continuing cooperation between the enterprises.
Sergey Grokhovsky, Director General of EZOCM Engineering Ltd, additionally noted that "In the past, all enterprises within the sector were considered to be competitors. Many of these enterprises were afraid to cross set lines and acquaint colleagues with their own technologies. Over more than 10 years, we have also developed our technologies "without telling anybody" about the results achieved. However, nowadays, our designs are actually open and are successfully implemented on the Russian and international markets. Cooperation is required and we must not be afraid of this."
EZOCM JSC demonstrated its openness immediately after the close of the meeting by organizing a tour of its industrial premises for its guests. Sergey Perestoronin and colleagues visited the main workshops, Central Analytical Laboratory, the "poor" raw materials processing section, as well as the Engineering Center premises launched into operation in June 2017, which offers a full range of research, design-and-engineering and consulting services in the field of mining, refining and extraction of precious metals to companies in the mining industry.
18 октября 2017