Gold compounds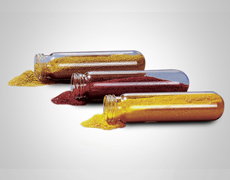 Gold compounds are used for the production of gold-plating electrolyte and catalysts for organic synthesis. Gold compounds produced by JSC EZOCM are shown in the table below.
NaAuCl4•nH2O

Precursor of gold compounds

Crystal

STO 00195200-068-2012

47

51

13874-02-7

Formula

Name

Description

State

Russian standards

Lower limit (%)

Upper limit (%)

CAS-number

H[AuCl4]

Main precursor of gold compounds

Solution

STO 00195200-081-2013

6

25

16903-35-8

Gold compounds available upon request
For further details, please contact us.
To place an order, kindly provide information as below:
Category
Product
Required information
Order quantity
Chemical compounds
Chemical compounds in the form of crystals and solutions

1. Compound name;
2. Physical state (solution or crystal);
3. Contents of principal components and impurities (defines the compound type)

Required quantity, unit of measurement.